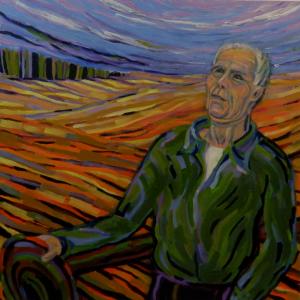 The artwork's title "It's keepin' dry. No doubt" originates from verses of a poem by P.J. Hartigan a.k.a. John O'Brien "Said Hanrahan". As with the poem, the painting celebrates the harsh pastoral life exposed to the drought and flood cycle.

The artwork demonstrates my fascination with color which characterizes all my recent works though this time my colors are contextually less intense. My passion for colors is inspired by Monet and Hockney. On this painting, the subtle colors of land, red, black and yellow, are in contrast with more intense green.

I have used vivid hues and thick and strong brush strokes to accentuate the sheer physicality of Australian outback. However, the physicality clashes with the spirituality of land and its peoples. Pure physics, divinity and poetry intertwine on this canvas, no doubt.